Quality Office Signs, Dimensional Letters, and Directories
Projecting Double Sided Signs
Why have one sign when you can have two? Projecting double sided signs give you the freedom to display your message twice. Projecting double sided signs protrude off the surface of your wall. They call attention, they are attractive and they maximize your exposure. Projecting double sided signs are used in exterior and interior applications. Use them outside on corners or faces of your building. These signs can be manufactured using any exterior material. Popular styles are banner material, woods, and metals. Mounting brackets in a variety of styles complete your look. Interior projecting double sided signs are used as directional and informative signs around your facility.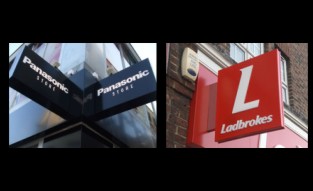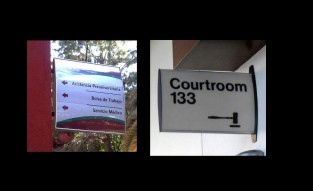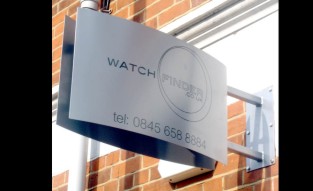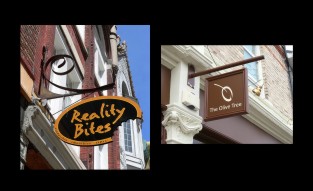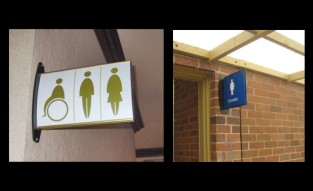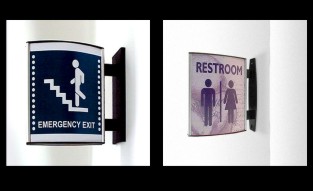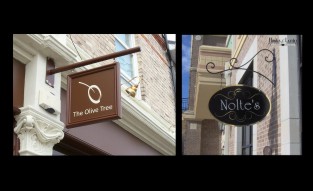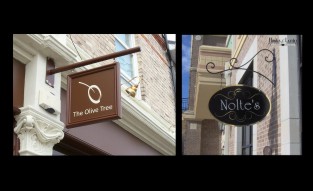 Projecting Wall Brackets
Do you want to maximize passerby attention to your office, retail store, or restaurant? Our projecting wall bracket signs do that and more. In busy malls, business parks, and city streets, having your brand's name flat on the surface of a wall can lead to loss. Potential customers pass by your store-front without even noticing you're there. A projecting wall bracket sign will guarantee visibility, maximizing traffic to your business. We can include more than just your name- so requesting additional wordage like slogans, designs, logos, or telephone numbers is welcome. At OfficeSignStore.com, we customize your sign to say exactly what you want it to say.

These signs are double-sided, offering you the option of providing two different messages. We provide projecting signs for indoor and outdoor use. They come in a variety of different materials including wood, plastic, and aluminum. Your order will come with a clear protective covering to keep your sign in great condition. You can custom order interior lighting to make sure your sign is illuminated at night. Suction cup inserts are also provided, easily changeable through both sides of the sign. We're happy to make inserts for you, or you can make them yourself on your home computer! Just be sure to use transparent or light-colored paper if your order includes interior lighting, as you won't be able to read the sign if the paper is dark.

Among their many uses, projecting wall brackets make especially great office signs. If you're looking to make your office location known, a projecting office logo sign will do the trick. A custom office sign means your business will stand out from the rest. Once you're exterior is set up, we're happy to help with your needs on the inside. These interior signs are a go-to item for business owners who want to make sure their restrooms and emergency exits are well-marked. They can also clearly designate each personal office, so visitors don't have to wonder. We can include braille and will comply with the Americans With Disabilities Act upon your request.
Ready to get started? Give us a call at 800-561-6522 with any questions you may have regarding quantity discounts, pricing, customizations, art creation, or our personalized product recommendations! We look forward to working with you!