Quality Office Signs, Dimensional Letters, and Directories
Banners and flags standard and custom
Though our expertise lies in manufacturing eye-catching office signs, we're not limited to these products. Our passion is for attention, and installing banners and flags is a great way to increase the level of attention your company is receiving. With over 500,000 flags in stock, OfficeSignStore has gained a reputation for being one of the top online resources for national, state, and military flags. Indoor and outdoor flag pole kits are also provided, meeting the same high standard of quality found in our signature office signs. We've earned your trust by providing the best products on the market- and we're determined to never compromise.

In all shapes and sizes, these flags are also durable- proving they can withstand the elements. This durability is made possible because of the material used to craft the flags and banners. We produce custom flags if you'd like a unique design. By hoisting a flag or banner with your personal logo and information, you are promoting your company in a very attractive way. We're able to implement vibrant colors that speak to your brand's personality. We encourage our customers to order flags that will accurately portray their brands image in a creative fashion. A custom flag or banner does not only communicate the message to the targeted audience, it portrays an established and confident image.

Professionals in all kinds of industries have sought the flag as a sales-boosting tool. Unlike most signs, flags guarantee the attention of people who aren't necessarily in close proximity with your location. This is especially the case if your business is located near an interstate or highly trafficked part of town. If your office sign isn't helping you be seen, a flag is definitely a good option for you. With this tool, your company receives all the benefits of a sign with additional advantages. Maybe Bob Dylan was right - the answer is blowing in the wind.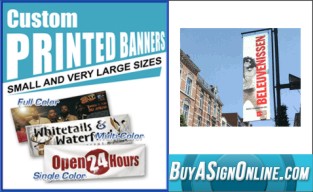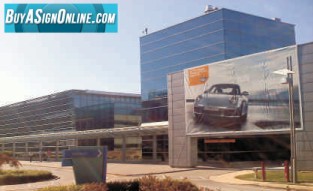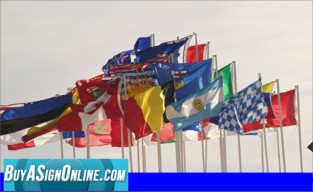 Feel free to call us with questions or requests for your banners and flags, or for the most convenience, you can order many sizes and styles from our BuyASignOnline.com e-commerce store 24/7 HERE! Please feel free to call us while shopping online to provide quantity discounts, customizations, product recommendations and art creation: 888-959-1018.